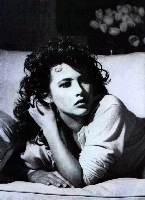 Bettina Rheims, famous french photographer, was born on the 17 December 1952, her father deal in art works. She is one of the best art photographer not only in France, but in the whole world. She became world famous artist with her collection 'Cambre Close' (Closed room). She lives in Paris. And why we are talking about her? Bettina Rheims is photographer who was working with Sophie Marceau many times and who made most of Sophie's art photos. Asked what does she think about Sophie, she replied: "She is the most beautiful and sensual of young actresses."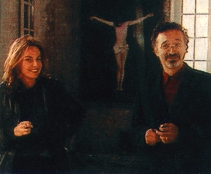 Recently, Bettina Rheims, considered as vulgar or at least tasteless by many critics, publicized photographical collection about live of Jesus Christ. New testament changed into clashfull story. Text was written by Serge Bramly (born on the 31 January 1949, working in Paris as historian and novel-writter, he wrote biography of Leonardo da Vinci), he choose 140 photos with Bettina Rheims together. This project has budget about 140 thousand USD! Society accept this contraverse collection in many ways:
- Magazine Figaro: "blasfemic and vulgar"
- General secretary of french episcopal conference: "I doubt about catechetal value of collection."
- Random visitor of collection: "It is quite interesting but it's real blasphemy!"
- Jospain :-): "I don't like it much, but in any case it is real art, because you must think and feel something over every photo."
...and the other side ....
- Bettina Theims: "We didn't want to shock anyone."
- Serge Bramly: "The church invented the art. The church gave the first chance to artists to explite themselves...so it is returning of art to its parents."

To understand Bettina Rheims you must understand her work. And who better descibe her art way as she in person:"My work must be art in all points - it is condition. I'm not photographing the real, all on my photos is false, unreal. Aranged and exactly ordered, even it seems not so in the first look. Example: Wine berries on one of my photo were too dark, so I had to color it to red."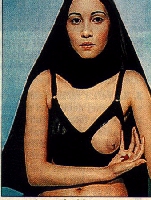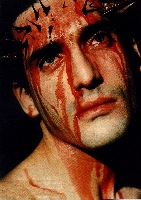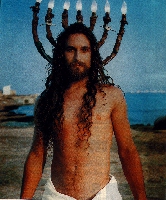 ---
page optimalized for Netscape Communicator 4.0, screen resolution 800x600, author: Jospain