...drama of ambition, success and disappointment...
...artistic clashes between playwrights Moliere and Racine...
...Marceau as the tantrum-throwing dancer-turned-diva...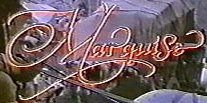 Marquise is a handsomely produced drama about the rise and fall of a beauteous actress. As cheerfully portrayed by Sophie Marceau, the eponymous heroine is an engagingly ribald, but perhaps rather too modern, character. She rises from an impoverished background to become a favourite of the Sun King, Louis XIV, and the mistress of the celebrated Racine, who wrote roles especially for her; but her fate, in the end, is a tragic one.
This period romp about artistic clashes between playwrights Moliere and Racine at the court of Louis XIV races along as though its life depended on it. The result is a muddled, decidedly soapified, but not unintelligent yarn about suffering in the name of art, with Marceau as the tantrum-throwing dancer-turned-diva torn between Moliere's integrity and Racine's love.


As we already know, this visually sumptuous biopic depicts the life of Marquise Du Parque played by Sophie Marceau, a former prostitute and dancer born into poverty, who became one of France's most famous actresses during the reign of Louis XIV.

Marquise is first seen dancing in the streets, a wild, sensual performance that not even heavy rain can dampen. She catches the eye of Moliere (Bernard Giraudeau) and one of his leading actors, Gros-Rene (Patrick Timsit). Gros-Rene is so smitten that he promptly proposes to the ravishing young woman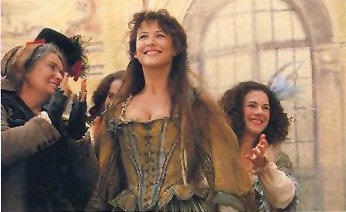 who is, at that moment, being ravished by a grumbling oaf who has paid her father for the privilege of having his daughter. "I think you should act," Gros-Rene tells her over the shoulder of her unwelcome client. "What do you think I'm doing?" she responds, peevishly, thrusting away the unrequited customer.
For a short time she marries the noted actor Gros-Rene, who frees her from servitude and promises her the opportunity of appearing on stage in Paris. Her first stage appearance is a disaster when she succumbs to a dire case of stage fright, but she improves. She also catches the eye of the king (Thierry Lhermitte) – not hard to do when she performs a cartwheel for him despite not wearing underwear. All the journey to success and fame is pockmarked with plenty of failures, back stage politics, betrayals, sexual encounters and tragedy. Although she still admires and loves her husband, Marquise is free with her sexual favours amongst the elite of Parisian society. In Paris, she attracts the attentions of rival playwright Racine (Lambert Wilson), who agrees to privately teach her the art of acting. Following Racine's coaching she became a good and sensual actress. Racine also writes the demanding tragedy Andromaque for her, although the play eventually takes its toll. She is leading lady of Racine's theatre on the end of her life. Dying young, Marquise is a tragic heroine in the classic sense of the word.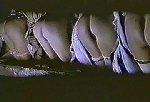 The film's main thesis is the fragility of fame and Belmont opts for a bawdy naturalistic sense of period, never questioning the loose morals and murderous machinations of her characters. The toilet manners of the French court are given regular exposure - the king greeting visitors on a commode, for example, his flunkies then dipping into the pot with their fingers.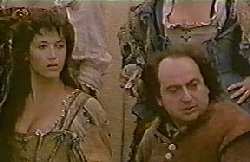 Solid cast of this film made a half of its succes. Sophie Marceau as leading actor plaing around such good skilled actors as Patrick Timsit, Bernard Giraudeau andLambert Wilsondone the pretty good work in perfect painting of that time characters. We cannot forgot Thierry Lhermitte, whoose King Sun is great performed. One of the best performing of the Luis XIV in cinematography history.



Marquise Du Parque (SOPHIE MARCEAU)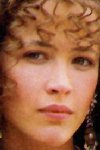 Marquise is so calculating, so ruthless, so ambitiou that her eventual downfall counts for little. But even if the central character isn't as interesting as she might have been, there's still plenty to enjoy in this lavish re-creation of an era when every stage performance seems to have been a political act.
The stunning Marceau delivers a beautifully lusty and quite energetic performance in the title role. Marquise is a strong willed, sexually voracious and almost modern heroine, and Marceau's performance is suitably lively and charming. Marceau is a magical vision on screen, creating a haunting and hypnotic character, conveying her complexities with pure skill and intellect. Visually, Marquise is a breathtaking, beautifully shot and costumed.
Paul Fischer, critic, comments Sophie's playing: "Sophie Marceau is tailor made for this woman, who leaves her poverty-stricken world behind her for a short life in the Parisian theatre."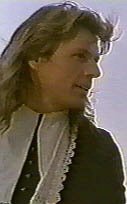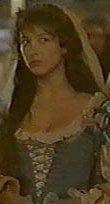 As her husband, Timsit is ardent and touching. Timsit offers some wonderful moments of comic relief as her grossly overweight and buffoonish husband and in a far from obvious casting, Lhermitte scores as the king. Shot and edited with alacrity, pic conveys the mud, muck and rabble as well as the sumptuous pomp of the day. Jordi Savall's score is a delight.






"122 minutes the widescreen positively bursts at the seams with colour and movement, both on the bustling streets of Paris and in the court of Louis."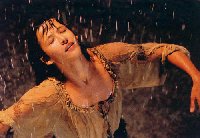 Briskly paced throughout, Marquise is an exquisite looking film with lavish production values, superb costumes (set design by StefanoPaltrinieri) , some robust performances from a solid cast, and an eye for authenticity. Veteran producer turned director Vera Belmont (Farinelli, etc) attempts to add some much needed spice to Marquise with generous injections of bawdy sex and a few contemporary touches. Belmont seems to have been inspired by Patrice Leconte's Ridicule (a superior film), insisting on depicting the most intimate details of her characters. Even if the material itself is not all that interesting the delightfully entertaining script, from Belmont and co-writer Gerard Mordillat, bristles with wit and humour .
The film spends a fair amount of time jokingly comparing the styles of the two great writers featured. The king complains to Moliere: "With you, we never know whether to laugh or cry"; while Racine, on being asked if his new play is a tragedy, remarks: "Is that a question or a rebuke?" French audiences, presumably well-educated in their nation's literary past, will be more easily able to appreciate the subtleties of these exchanges.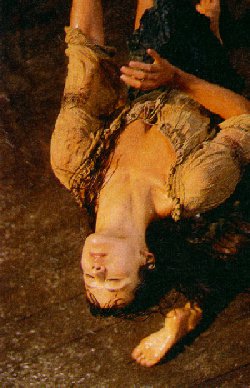 Marquise offers the audience fascinating insights into the world of French theatre in the latter half of the 17th century and the fabulous pomp and circumstance of Louis XIV's court. From among:
The film opens with a scene in which four of Moliere's actresses, taken short, are guided to a primitive toilet by a little girl who charges them for her services and then takes money from a bunch of voyeurs who observe them through holes in the wooden wall (see picture above - the second one). Later, King Louis defecates into a kind of bedpan while holding court and his doctors unselfconsciously examine the results in full view of the assembled company. It was, Belmont avers, a world without much privacy.

"The playfulness of the film spills out into the sexual liaisons, with a scandal erupting in almost every sequence. The phenomenon serves to remind us that people in high places were catting around long before Bill Clinton," said renomed critic from Toronto Sun Bruce Kirkland about Belmont's intime details painting.

The release of Marquise (August 1997), was marred by a bitter row between Sophie and the director, Véra Belmont. In the magazine VSD, she described Belmont as "incompetent" and "malicious". Belmont responded: "She hates me... but I got what I wanted from her."

Sophie cancelled her promotional engagements for the 60 million franc film and refuses to talk about it in interviews.

In Marquise, costume drama conventions are blown up big and beautiful while scenes in the gutter suggest the horrid smells, disease and dirt of the times. By presenting it as farce, Belmont actually makes the era seem more real than in the cleaner, slicker Hollywood version of France in The Man In The Iron Mask.

It is performed in French with English subtitles.


Here I offer you some opinions from renomed or not renomed critics. Here you can find positive critics and negative ones, too. Decide, which you will believe in and whoose critic has the same opinion as you.


Marquise is rich in detail but rather thin in narrative and Marceau doesn't really succeed in making her character sympathetic.

David Stratton

Their period pieces tend to have more spice and energy than your typically dry Merchant Ivory affair, and more veracity than your average big budget Hollywood treatment.

Greg King

With rich, sumptuous sets and a witty, intelligent script, Marquise is a colourful period piece that captures the lusty spirit of the 17th century with its fire, frivolity and passion.
Vera Belmont invests passion and energy in this entertaining romp which delicately balances comedy and tragedy on the fickle seesaw of life.

Louise Keller

Only the French can make a film like a this and do so with an air of timelessness. Lavish, sexy, funny, poignant, Marquise is a masterful entertainment on a grand scale, an intelligent and fascinating insight into 17th century French society, a period of aristocratic excesses, coupled with the development of French theatre.

Paul Fischer

Only the film's herky-jerky storytelling -- there are crises created between key characters that are simply ignored in the next scene as if they never happened -- drags it down a notch in my rating. (3/5)
Most importantly for the success of Marquise, the ravishing Sophie Marceau stars as the title character.

Bruce Kirkland, Toronto Sun

So if you want to see a lot of Marceau -- and I do mean a lot -- this is definitely the one for you. But if you want to get an overview of 17th-century French drama, go get yourself a translation and read it.

GEMMA FILES

Sharon Stone's famous leg-crossing scene in Basic Instinct pales into insignificance next to Marquise's on-stage cartwheel.

Louise Keller

Rating: "Marquise" is rated PG-13 (Parents strongly cautioned). It has adult themes and one mildly explicit love scene.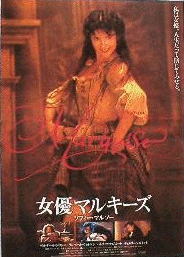 us.imdb.com - What International Movie Database says about "Marquise"?
www.ecran-noir.com - Ecran-noir about "Marquise", French
www.france3cinema.fr - France3cinema
---
page optimalized for Netscape Communicator 4.0+, screen resolution 800x600, author: Jospain